Temporary out of stock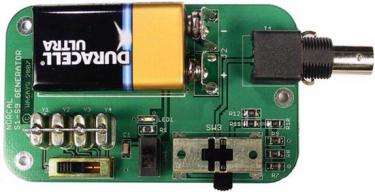 The NorCal S9 signal generator is a crystal-controlled oscillator which produces switchable output levels at selectable frequencies. All of the board-mounted components are included in the kit, all you need to add is a 9V battery. Rubber feet are supplied for enclosure-free operation, or you can easily fit it into an Altoids tin.

The S9 level is useful for testing and calibrating receiver S-meters while S1 level can be used for receiver alignment and sensitivity checks. The oscillator works with most fundamental mode crystals, so you can substitute your favorite frequencies up to 1 5m. The output harmonics also can be used to reach into the higher bands.

The majority of the components are surface mount technology (SMT), but are easily mounted due to wide component spacing. If this is your first SMT kit, be sure to read the assembly tips section which will guide you to a successful assembly.






Dimensions
3.5" x 2.125" x 0.6" (HWD) excluding connector
Power Requirements
9V battery, less than 2mA typical
Output Frequencies
3.579 MHz, 7.040 MHz, 10.116 MHz, 14.060 MHz
Frequency Accuracy
Within +/- 1KHz
Harmonic Content
2nd: -4dBc +/- 2dB
3rd: -1 1dBc +/- 3dB
4th: -17dBc +/- 3dB
Output Impedance
50 Ohms
Output Level
1. Low: 1uV (-107 dBm)
2. High: 50uV (-73 dBm)
Amplitude Accuracy
1. Low Level: +/- 3dB (2 dB typical)
2. High Level: +/- 3dB (1.5 db typical)
NorCal S9 Signal Generator Assembly & Operating Manual in PDF format